Handwriting of a Super Genius: Frederick Sanger
1/24/2014
By Scheherazade Q.
Some things never go out of style. Ingenuity is one of them.
Going through the GCG archives, we've rescued Sheila's analysis on Frederick Sanger's handwriting: a double Nobel Price recipient for his work in Chemistry, that used to credit his wife with more contributions to his work than anyone else "by providing a peaceful and happy home". Besides Sanger, just four scientists have been awarded two Nobel Prizes: Marie Curie, Linus Pauling and John Bardeen.
Frederick Sanger
By: Sheila Kurtz
Master Graphologist and CEO of Graphology Consulting Group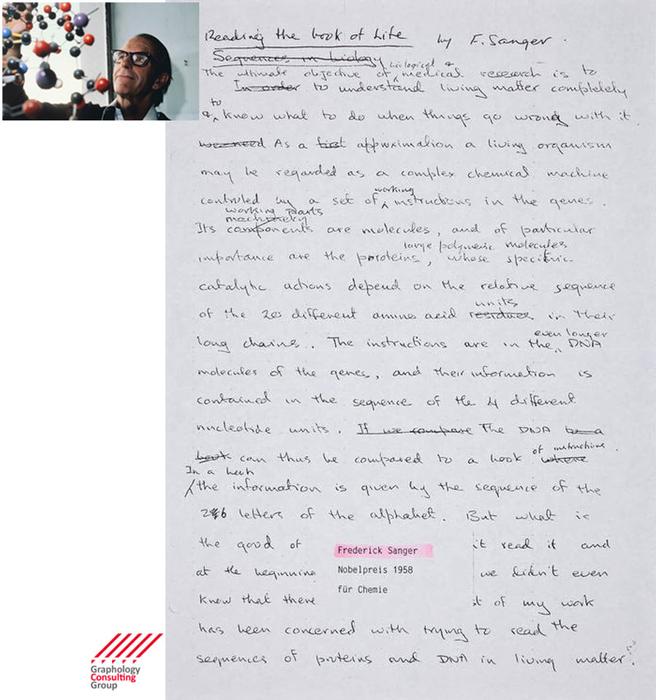 The very small, very clear and easily readable handwriting of the late Frederick Sanger of Great Britain is a study in intense concentration and pin-point focus. He could tune out almost all distractions and become utterly enwrapped in the matter at hand.
The straight-up points on the p formations indicate a person who was strenuously argumentative and used hard facts (as opposed to imaginary assumptions) to back up his hypotheses. The slight leftward slant of his letters indicate a tendency toward repression of emotion (very common among the British) and the open e loops signal an open-mindedness to new ideas, with few sclerotic preconceptions and no bigotry.
He was well organized (balanced f formation) and strongly determined (vertical g downstroke).
He was also intuitive (breaks between letters within words), which accelerated his methodical and investigative thinking processes. His intuition allowed some of his ideas to come from his "gut" and he trusted his hunches.

Want to know more about what your handwriting says about you? Visit GraphologyConsulting.com or request your own handwriting analysis through www.ScanMyHandwriting.com


---
News Archive