Flash Analysis: Derek Jeter
2/10/2014
By Scheherazade Q.
He's already busy with Spring training so, it's only fair we get busy with his Flash Analysis!
See below Derek Jeter's signature, analyzed by Graphology Consulting's CEO, Sheila Kurtz as originally published in the the kids edition of Sports Illustrated Magazine on May, 2012. [To see the original publication: click HERE]
Derek Jeter
By: Sheila Kurtz
Master Graphologist and CEO of Graphology Consulting Group
© 2014 Graphology Consulting Group All Rights Reserved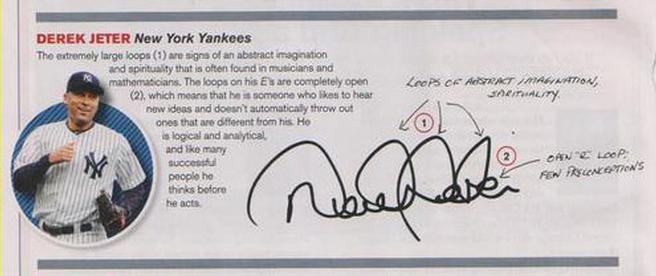 The extremely large loops (1) are signs of an abstract imagination and spirituality that is often found in musicians and mathematicians.
The loops on his E's are completely open (2), which means that he is someone who likes to hear new ideas and doesn't automatically throw out ones that are different from his.
He is logical and analytical, and like many successful people, he thinks before he acts.

Want to know more about what your handwriting says about you?
Request your own handwriting analysis through www.ScanMyHandwriting.com

---
News Archive