William and Kate: Couple Analysis
2/14/2014
By Scheherazade Q.
A Prince and Princess story sounds mighty appropriate for Valentine's day. Here's Sheila's couple handwriting analysis on the Duke and Duchess of Cambridge:


William and Kate
By: Sheila Kurtz
Master Graphologist and CEO of Graphology Consulting Group
© 2014 Graphology Consulting Group All Rights Reserved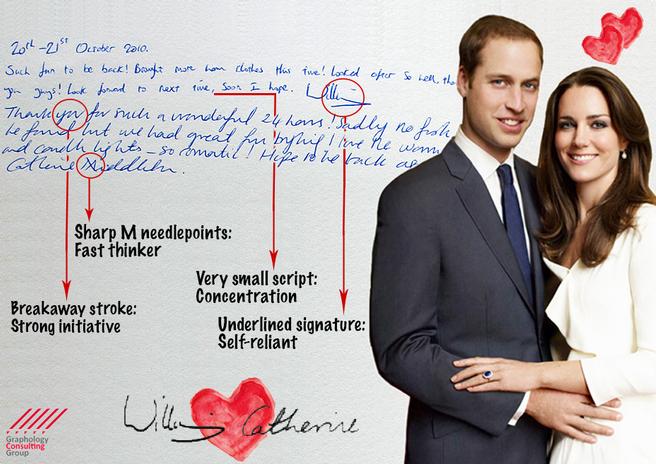 In the case of the Duke and Duchess of Cambridge, two heads work better than one.

Kate's handwriting slants somewhat to the right, which signals a warm and outgoing emotional structure. She is the more social of the two. The needle points on M and N formations indicate a very fast thinker. She is also analytical and will do her own investigations and make up her own mind. Kate is quite sensitive to destructive criticism, as shown by the overblown d loops, but she soon gets over pressure and stress. She is prepared to take the initiative (breakaway stroke at end of you) without urging.

Prince William is shy and a loner by nature. His quite small handwriting overall reveals he is very intense and concentrates hard on the details. He can exclude almost all external stimuli. He tends to work more with facts and not much from imagination. The underlining of his name indicates self-reliance; he prefers to do things on his own without help from others.

Kate is an excellent complement for him!
Want to know more about what your handwriting says about you and your Valentine?
Request your own handwriting analysis through www.ScanMyHandwriting.com
News Archive