Flash Analysis: Shaun White
2/5/2014
By Scheherazade Q.
The Sochi Winter Olympic Games are just around the corner... And today Shaun White surprised the world by dropping out of the new Olympic slope style event.
Is this caught you off-guard, it's because you didn't know about White's serious sense of caution, a trait his signature reveal.
See below Shaun White's signature, analyzed by Graphology Consulting's CEO, Sheila Kurtz, and originally published in the the kids edition of Sports Illustrated Magazine on May, 2012. [To see the original publication: click HERE]
Shaun White
By: Sheila Kurtz
Master Graphologist and CEO of Graphology Consulting Group
© 2014 Graphology Consulting Group All Rights Reserved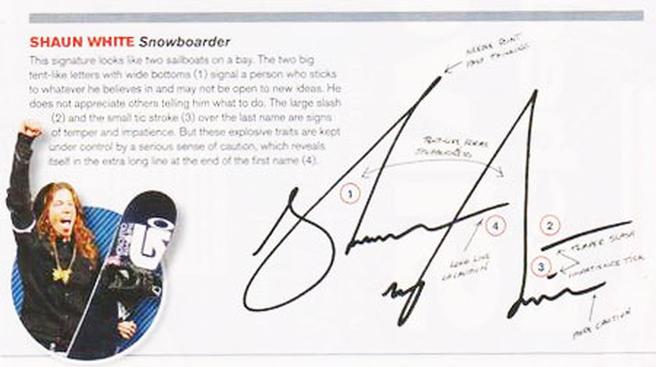 This signature locks like two sailboats on a bay.
The two big tent-like letters with wide bottoms (1) signal a person who sticks to whatever he believes in and may not be open to new ideas. He does not appreciate others telling him what to do.
The large slash (2) and the small t stroke (3) over the last name are signs of temper and impatience. But these explosive traits are kept under control by a serious sense of caution, which reveals itself in the extra long line at the end of the first name (4)

---
News Archive