Donald John Trump
12/12/2016
By Sheila Kurtz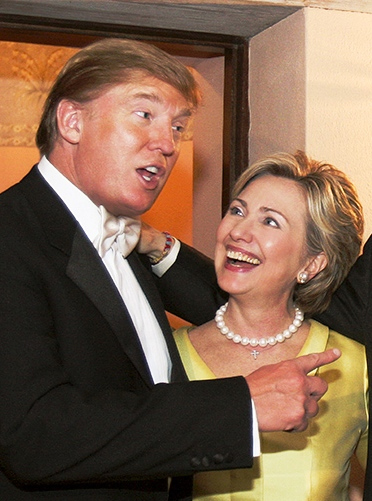 Rivals Donald John Trump and Hillary Rodham Clinton together in happier times.
By Sheila Kurtz, Master Graphologist
The handwriting and signatures of Donald John Trump knowingly flaunt a quick,rolex replica watches bold, self-applauding mind that has grown more and more hugely stubborn over the years. When Trump commits mistakes in thinking or acting (not merely a sly slip of the tongue), he knows it. When the mistakes pertain to his prowess he will only admit to obvious errors reluctantly, after days of media water boarding and overwhelming, fact-based evidence that he is wrong.
(Stubbornness is indicated to biometric graphologists by the rigid and very prominent tent-like structures in places like the first "D" and last "d" in Donald of his signature, and other places.)
Although Trump may play the theatrical "truth-telling" fool in public, his essential personality is almost entirely geared to rapidly reading the strengths and weaknesses in other people, including by the examination of their handwriting.
Trump says he is an amateur graphologist and is a strong proponent of the use of biometric graphology in getting to know one's employees and adversaries.
As an expert graphologist, I've kept close track of Trump's handwriting for almost three decades, back to when he was in his 40s. Here is what his handwriting reveals about him over the long term: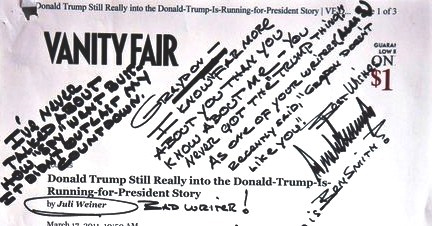 Trump's mind still ranks among the top 1% of the world's fastest thinkers (along with about omega replica watches 75-million other human beings worldwide), which means his comprehension is way ahead of many people he encounters in almost any field or nation, including Russia, China and India.
The famous Trump "shark teeth signature" is part of his personal brand. He has made his full last name, in capital letters, and the bold capital letter "T", his public brand. Trump consciously crafts his carnivorous predator signature for its psychological effect on others, and the imaginary implication of a fearsome shark seems to be how he wishes to be seen in public.
The handwriting signs of determination, decisiveness, and independent-mindedness are all still there. (Short "t" and "d" stems and firm down strokes without loops below the baselines.)
Trump's so-called "tender" emotions, if he has any, have not surfaced at all over time. He may be cordial but he is decidedly not sociable. Neither is he truly over-sensitive to sharp criticism even though he has trained himself to be a brutal counter-puncher.
Although Trump's caustic tongue is sometimes the worst enemy of his throat, he is rarely impulsive. As indicated by the predominantly vertical slant of his writing, he thinks first, before he acts. There are also horizontal dashes throughout his script, an indication of cautiousness.
He is rarely influenced or swayed by friendship, reputation, or authority. His decisions are almost entirely based upon how he believes the results will personally impact him; all other life is of secondary consequence.
Because Trump "gets it" so fast, he may become impatient and testy with those who are not as fast as he is. He can be sarcastic and harsh to those who keep him waiting by thinking too long.
The concepts of spirituality and material creativity are both a mystery to Trump, whose tendencies are to be mercilessly specific, factual, and to calculate the odds before he bets. He has long been well aware that a casino owner's odds are stupendously rigged in the house's favor.
Although audacity is among Trump's key personality traits, he also exhibits a discernible sense of caution (as signaled by small dashes and horizontal, dash-like lines in his script) that may, at times, act as a moderator of his behavior.
Trump marches to his own trombone section. To change his rhythm is in no way easy, and never a winning bet.
~~~
HILLARY RODHAM CLINTON
The handwriting of Hillary Rodham Clinton presents one problematic trait clearly and often: She is overly sensitive to destructive criticism, as indicated the swollen loops in her "d" letters.
The barrage of nastiness she routinely receives does what it is intended to do: It hurts!
I've also kept track of Clinton's handwriting for many years, and her personality has remained relatively constant: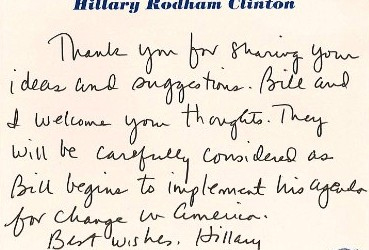 She is direct in her thinking and speaking, at times blunt.
"On the move" is how she prefers to live life. Her motions are full of high energy (as signaled by full lower loops in her letters "p").
Her determination to see matters through to the end is potent and enduring. (Emphatic and unembellished down strokes of "j", "y", and "g" forms..)
Her material imagination is full (large lower loops on her "y" and "g" forms) and she can bring many of her dreams up to reality.
Her goals (dreams with a deadline) are high enough so that she must stretch to reach them (her t-bars cross her t stems at or near the top).
She thinks first and then acts. Impulsiveness is not a significant part of her personality. (As signaled by the near vertical slant to her overall script.) She is ruled by her head, not her heart.
She is fairly comfortable in the company of others but, like Thomas Jefferson, she may be happiest alone by herself.
Clinton likes to talk, better than she likes to listen.
She may at times be open-minded to new ideas from others besides her in-group, but frequently she will listen and trust only those who share her preconceptions.
Clinton will take the initiative and needs nobody to urge her on.
~~~
Sheila Kurtz is president and founder of the Graphology Consulting Group, the leading biometric graphology research and development company.
5 Handwritten Notes That Will Change Your Life (from Inc.com)
3/13/2014
By Scheherazade Q.
In our search for all things handwriting, a piece by Inc.com's Jeff Harden on five notes that have the power to bring changes to your life if you dare by part of the few that still take time to handwrite notes (aka: "the elite and powerful", according to Haden).
The power to be in the top tier is, literally, in your hands.
5 Powerful Notes to Write That Will Change Your Life
By: Jeff Haden
Inc.com
Phone calls, even faux face-to-face on Skype, are great. But when you want to say something truly important, writing a note, especially a handwritten note, can be even more powerful.
Why?
Notes are unexpected. (Only the elite and the powerful write letters anymore.) Notes can be savored and studied. Notes can be saved. Notes can be pulled out and reread many times. The memories of phone calls can be fleeting. Notes--meaningful, sincere, genuine expressions of thanks, of praise, of feelings--can last lifetimes.
Here are five notes you should write today:
1. A thank-you note to someone who believed in you.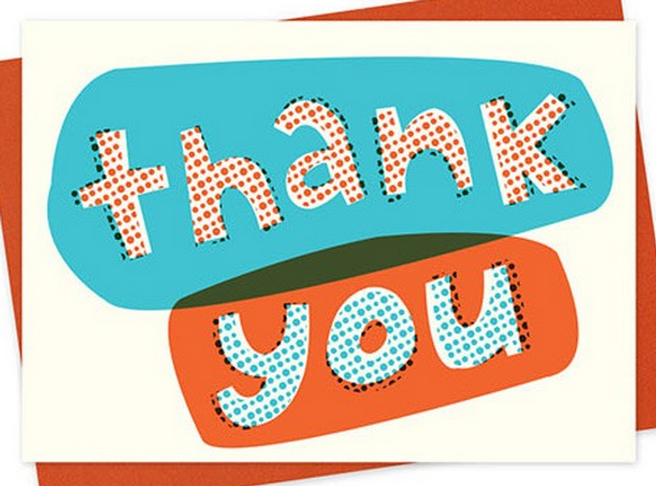 Belief is a powerful thing. Some people have incredible stores of self-belief, but many of us are given confidence and self-assurance by others. Slowly but surely, through their encouragement and support, we develop a stronger sense of self. At some point, did someone see you struggling and give you hope. At some point, did someone see something in you that you didn't yet see in yourself. Is who you are today is a direct result of that person's faith in you? Belief, founded or unfounded, is incredibly powerful--and when someone else believes in us, it's unforgettable.Tell someone what a huge difference she or he made in your life. Reading your note may make a huge difference in that person's life--and in your relationship.
2. Write an apology to a person you let down.
We've all made mistakes. We've all done things we regret. Or we haven't done things--and we regret not acting. We've all failed to step up, or step in, or show support, or lend an ear or shoulder. Maybe you feel you've moved past it. Maybe you feel the other person has moved past it, too. Maybe you're dreaming. An apology not made is the elephant in a room. No matter how much time has passed, it still colors every subsequent interaction. Kill the elephant. Say you're sorry. Just don't follow your apology with a disclaimer. Don't say, "I'm sorry, but I was really mad because you…" or "I'm sorry I blew up at you, but I do think you were out of line, too." Don't say anything that in any way places even the smallest amount of blame on the other person. Say you're sorry, say why you're sorry, and take all the blame. No less. No more. Your handwriting will almost compel you to sincerity, but if that doesn't happen, don't send it.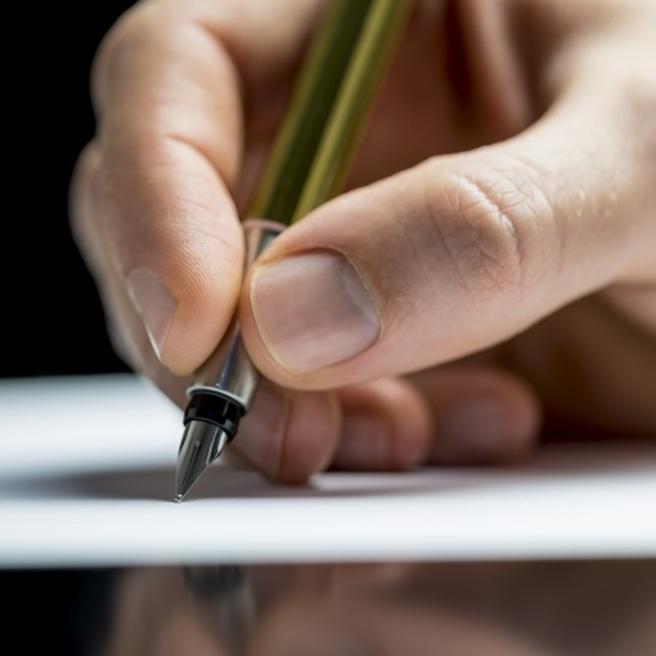 3. Write a note of congratulations.
You don't even have to know the person. If you liked a book, contact the author with a hand written note (she or he will probably read it because handwriting is so special) and say, "I loved your book." If a local entrepreneur landed a major customer, send a note and say, "I realize you don't know me, but I was so impressed I just had to congratulate you!" Just make sure you don't follow your congratulations with some sort of request. (Unfortunately, that's the oldest trick in the networking book.) Bonus points if you explain the impact the person's accomplishment had on you. Maybe it motivated you. Maybe it inspired you. Maybe it changed your life in some small way. If so, say so. Then you're not only congratulating people for a job well done--you're letting them know they made an impact in someone else's life. You're letting them know they matter. They'll feel a little better about themselves--and you'll feel better about yourself, too.
4. Write an offer to help.
Many people hesitate to ask for help. They see admitting they need help as the same as admitting a weakness. In a hard-charging, Type-A world, who willingly shows vulnerability? But everyone--everyone--needs help. So offer to help. But don't just say, "Is there anything I can help you with?" That won't work: We're trained to say, "No, I'm fine. Be specific. Find something you can help with. Say, "I know you're working on that. Can I help you finish?" Or say, "I've always wanted to know more about this. How can I help you work on it?" A hand written note inspires intimacy and confidence. Try it, you'll see.
5. Write an unexpected compliment.
Every day, people around you do good things. Most of those people don't work with or for you; in fact, most of them have no relationship with you, professional or personal. Compliment one of them for something unexpected. Write a note to a doctor who helped you through a rough time. Write a note to a college professor who made you see the world in a different way. Write a note to your town praising the snowplow crews. Write a note to someone who did something thoughtful not because it was expected but simply because they could. They will cherish such a note more than you may imagine, and the fact that is in your own hand will exponentially increase its significance. Your handwriting has immense power; try it and you may be amazed.
Find Haden's original article here.
Want to know more about what your handwriting says about you?
Request your own handwriting analysis throughwww.gina-shop.com
Handwriting in the News
3/11/2014
By Scheherazade Q.
Handwriting has been making the rounds in the news. We bring you a compilation of the latest articles referring to our favorite form of expression below.

A Car That Understands Your Handwriting
From: Business Insider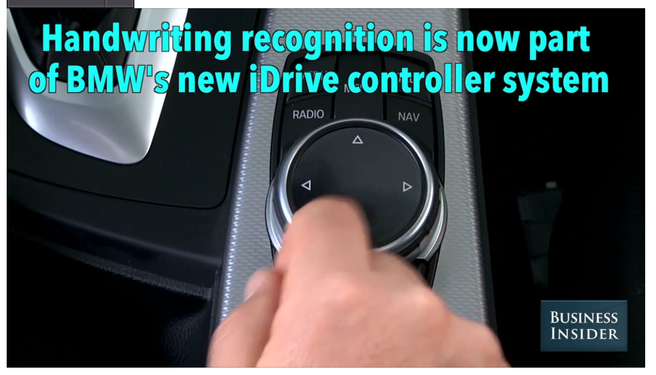 Even when Audi introduced last year the use of handwriting for drivers to input information on their GPS, the new BMW SUV improves the technology by integrating the touch-pad into the control scroll wheel.
See the video for yourself by clicking on the picture.
To read the full article from Business insider, click here.


Hidden Handwritten Text by Jane Austen
From: The Guardian


A piece of paper of 5 inches in length by 1 inch in height in which Jane Austen wrote what seems to be a copy of sermon from her brother, is being scrutinized by scholars, as it seems to have imprints of a different text on the back. Connoisseurs say it's possible is a continuation of the text on the front... But everyone seems to hope to the contrary.
According to the article, the piece of paper was discovered in a first edition of The Memoirs of Jane Austen, recently purchased by the Jane Austen's House Museum at Chawton.
The snippet shows Austen writing that: "Men may get into a habit of repeating the words of our Prayers by rote, perhaps without thoroughly understanding – certainly without thoroughly feeling their full force & meaning," This was a subject she contemplated in her own novel Mansfield Park, which was published in 1814.
The book and the snippet will be featured in an exhibition at Jane Austen's House Museum later this year to celebrate the bicentenary of Mansfield Park.
Read the full Guardian article, here.

A Handwritten Petition Goes All The Way To The Supreme Court.
From: The New York Times

The Supreme Court agreed to hear a case of constitutional challenge to an Arkansas state

prison's grooming policy.The case was filed in a detailed handwritten petition directly by inmate, Gregory Holt -which has gained a lot of a attention. As per SOTUS in November 2013, Holt should be allowed to grow a beard of up to one-half of an inch in length in accordance with his religious beliefs.


The fact that Holt's petition was handwritten is singled out in almost all news about the case. The upcoming hearing highlights the importance of the cases' subject matter but did the handwritten petition had any part on it?



Find Holt's full handwritten petition here.
To read the New York Times article, click here.

Mickey Mantle's Final Speech Handwritten Notes to be Auctioned.
From: Fox Sports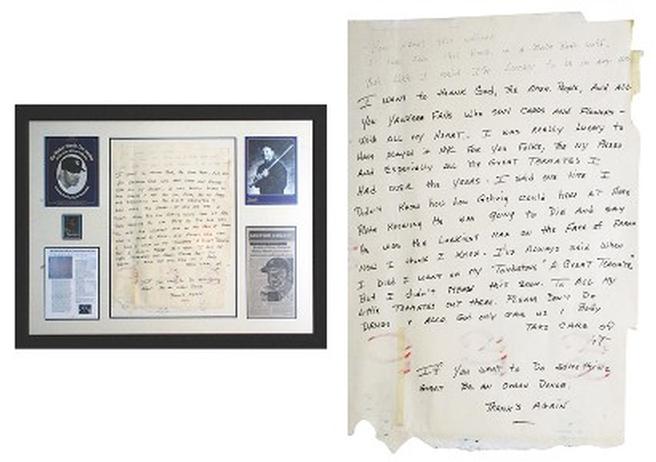 Mantle's speech was televised on July 12, 1995 from the Baylor University Medical Center in Dallas while he was recovering from a liver transplant. On it,omega replica watches Mantle begged his fans "Please don't do drugs and alcohol". He was seriously ill through complication caused by alcoholism.
The speech notes were written on the back of a PGA golf tour scorecard from his hospital bed. They will be auctioned this April at a starting price of $10,000.
Mantle passed away four weeks after this public address. Despite his problems with substance abuse, Mantle is remembered as one of the greatest players in baseball history. Mantle was inducted into the National Baseball Hall of Fame in 1974 [2] and was elected to the Major League Baseball All-Century Team in 1999.2014 new.

Read the full article here.
For the auction page, visit Grey Flannel Auctions.


Want to know more about what your handwriting says about you?
Request your own handwriting analysis through www.ScanMyHandwriting.com

---
News Archive