Amy Poehler: Persistence.
1/10/2014
By Scheherazade Q.
Finding a handwriting sample for Golden Globe co-host Amy Poehler proved rather tricky. Funnily enough, and very much like with her Golden Globe (and Womance) partner, Tina Fey, advertising made things possible. In this particular case, we owe it to no other than Absolut Vodka.
Here's the story: In order to promote a new Boston inspired flavor in 2009, Absolut looked for local legendary personalities, and asked them to capture their favorite Boston moments on slates that were then hung on a "Wall of Pride", in the spirit of Fenway's Green Monster. The slates were later auctioned -with proceeds going to the Charles River Conservancy.
We don't know who was the lucky person to buy Amy's own slate... But he or she took home a piece of Boston history remembering a moment that apparently marked the life of a young Amy Poehler forever: when the Burlington Mall added a food court!
Since her days as a Burlington native herself, Amy has grown in hilariousness and success, from improv to film and television. She became the first SNL cast member to be recognize with an Emmy nomination as Outstandng Supporting Actress in a Comedy Series. As the lead in Parks and Recreation, nominations as Lead Actress and Writer have followed... You can definitely see in her career the persistence Sheila talks about on Amy's personal analysis below.
But who am I to spoil it? Let's get right to it.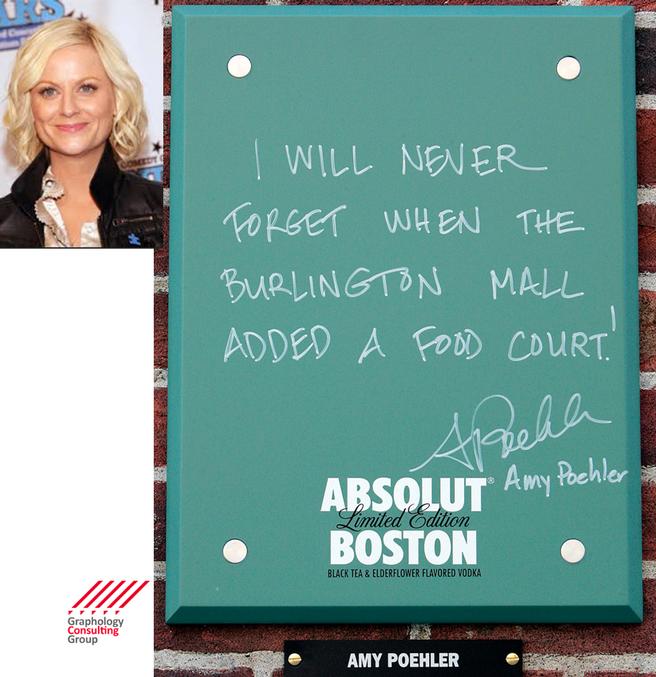 Amy Poehler
By: Sheila Kurtz
Master Graphologist and CEO of Graphology Consulting Group
Her outer self appears to be outgoing, full of fun, and open to all. Her inner self indicates a person who doesn't let many really know her until she feels trust for them. This is shown by a writing that is all written with block letters and by the very little difference between them.


The first stroke in her signature indicates that she is strongly persistent. She will keep trying to make things happen even when the likelihood is close to zero.

The extra large upper loops show a person who has interest in philosophical values.

The open e shows how open-minded she is to concepts other than her own.

The needle point formation in her signature a well as in the M in mall tell us that she is very quick to comprehend new information.

[Original Images by Absolut Vodka. Compilation by GCG]
Copyright. Graphology Consulting Group. 2013.

Want to know more about what your handwriting says about you? Visit GraphologyConsulting.com or request your own handwriting analysis.
---
News Archive