Catherine, Duchess of Cambridge
1/8/2014
By Scheherazade Q.
To celebrate the Duchess of Cambridge's 32nd birthday on January 9th we decided to gift her with the best present we know how to gift: her very own handwritten analysis!
Upon receiving it from Barney and Sheila, the first line they chose to start it with inevitably caught my eye: "Duchess Catherine is the woman every loving mother would like her favorite son to marry".
Considering the Duke of Cambridge was perhaps Option No. 1 to every other royal loving female born in the 1980's, it's nice to know he's in very nice hands.

From all of us, Happy birthday, Catherine!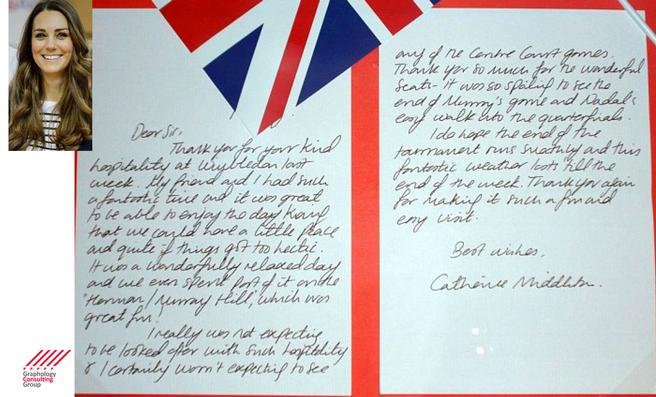 Catherine, Duchess of Cambridge

By: Sheila Kurtz
Master Graphologist and CEO of Graphology Consulting Group

Duchess Catherine is the woman every loving mother would like her favorite son to marry.

Her handwriting slants somewhat to the light right, which signals a warm and outgoing emotional structure. Pressure appears light, so stresses upon her do not linger: she simply handles situations and moves on.

Because she probably has so much to do, in so little time, she thus gets confused trying to multitask (as reflected by the tangled lines in her writing).

But don't get us wrong: she's won't beat around the bush. She is very direct, without windups and hesitations. She is prepared to take the initiative.

Needle points on m and n formations indicate a very fast thinker. She is also analytical and will do her own investigations of any matter, and make up her own mind.

She is quite sensitive to destructive criticism (the overblown d loops), but she soon gets over it. The big K (in the word "thank" and "kind") signals a person who likes to stand out.

She is open minded (open e formations), organized, and good with details. She expresses herself well (overall fluidity).

Her signature is readable, a sign she lets people in.

Who could ask for much more?

[Image composed by GCG. Original images courtesy of dailymail.co.uk and DukeandDuchessofCambridge.org]
Copyright. Graphology Consulting Group. 2013.

Want to know more about what your handwriting says about you? Visit GraphologyConsulting.com or request your own handwriting analysis through www.ScanMyHandwriting.com
---
News Archive